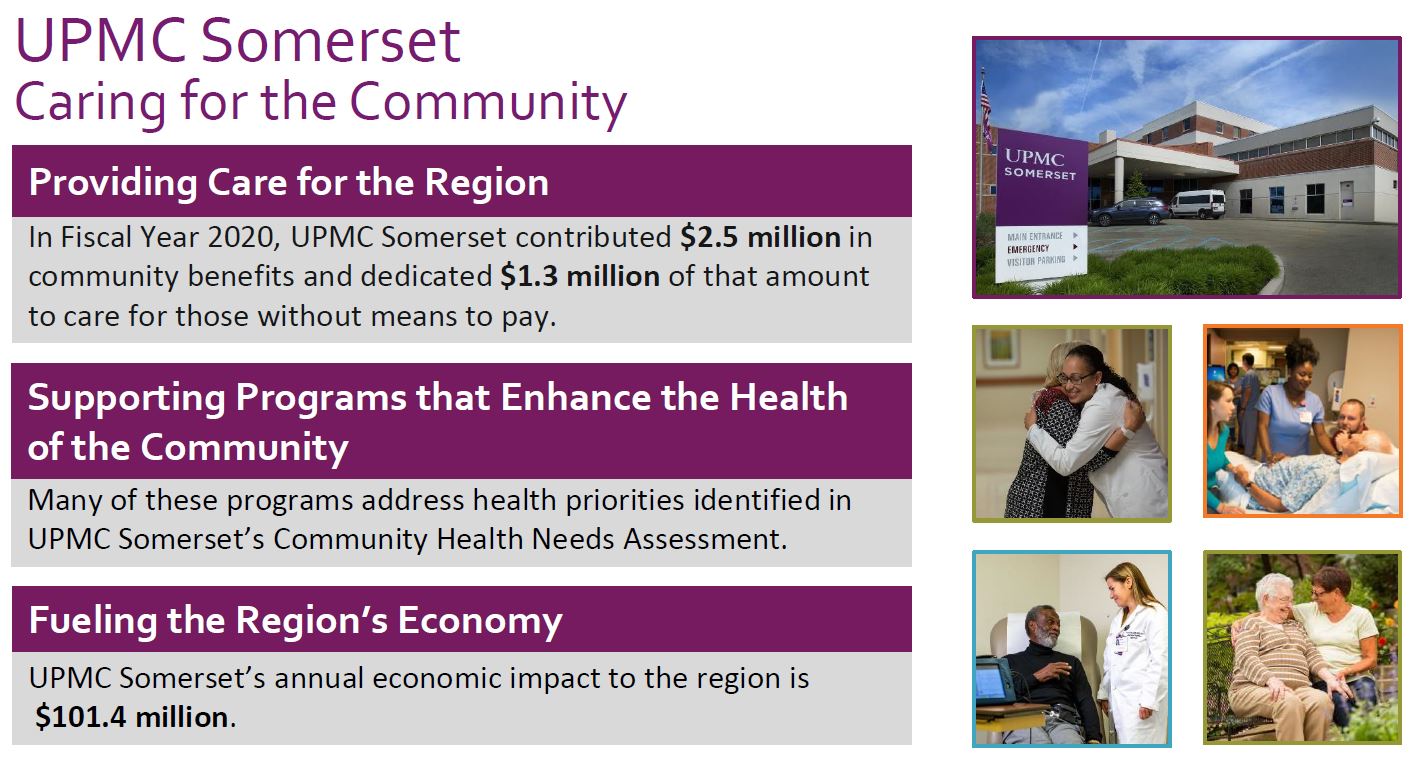 UPMC Somerset Provided $2.5 Million in Community Benefits Last Year, Part of UPMC's $1.7 Billion Total
June 3, 2021
Somerset, Pa., June 3, 2021 –  UPMC Somerset provided $2.5 million in IRS-defined "community benefits" last year for programs and services to improve the health and quality of life of all the communities UPMC Somerset serves. The $2.5 million total includes:
Providing care for the region. Of the $2.5 million in community benefits, UPMC Somerset dedicated $1.3 million to care for those without means to pay.
Supporting programs that enhance the health of the community. Many of these programs address health priorities identified in UPMC Somerset's Community Health Needs Assessment.
In addition, UPMC Somerset has a powerful effect on the local economy with a total annual economic impact of $101.4 million. The hospital's spending has a multiplier effect that ripples benefits throughout the area.
UPMC Somerset contributions were part of the whole UPMC health system's $1.7 billion in total community benefits the health system provided during Fiscal Year 2020 and posted recently in the UPMC Community Benefits Report for Fiscal Year 2020.
UPMC's $1.7 billion in total community benefits includes:
$509 millionto make care more accessible for the most vulnerable residents in our communities, including $121 million in free or discounted care to 20,000 patients. UPMC contributes a larger-than-expected share of the region's charity care. While UPMC cares for 18% of patients in all of Pennsylvania, it provides 25% of the hospital charity care in the Commonwealth.
$558 millionfor community health and wellness programs and charitable contributions. UPMC is Pennsylvania's leading hospital contributor to community health improvement services, such as neighborhood clinics and support groups, free medical equipment and transportation.
$599 millionfor medical research and education, advancing breakthrough treatments and cures while training the next generation of clinicians. UPMC funds more than half of all hospital-funded research in Pennsylvania, and 98% of all hospital-funded research in western Pennsylvania. Along with the University of Pittsburgh, our educational institution partner, UPMC is ranked #7 nationally in National Institutes of Health (NIH) funding, and has the nation's fourth-largest medical residency program.
"UPMC Somerset is committed to providing programs and services that benefit the health of the people and communities that we serve. According to the most recent publicly available data, UPMC contributes more than what any other health system in Pennsylvania contributes, and we're proud to be part of that," said Andy Rush, president of UPMC Somerset.
# # #
About UPMC
A $23 billion health care provider and insurer, Pittsburgh-based UPMC is inventing new models of patient-centered, cost-effective, accountable care. The largest nongovernmental employer in Pennsylvania, UPMC integrates 92,000 employees, 40 hospitals, 800 doctors' offices and outpatient sites, and a more than 4 million-member Insurance Services Division, the largest medical insurer in western Pennsylvania. In the most recent fiscal year, UPMC contributed $1.7 billion in benefits to its communities, including more care to the region's most vulnerable citizens than any other health care institution, and paid more than $900 million in federal, state and local taxes. Working in close collaboration with the University of Pittsburgh Schools of the Health Sciences, UPMC shares its clinical, managerial and technological skills worldwide through its innovation and commercialization arm, UPMC Enterprises, and through UPMC International. U.S. News consistently ranks UPMC Presbyterian Shadyside among the nation's best hospitals in many specialties and ranks UPMC Children's Hospital of Pittsburgh on its Honor Roll of America's Best Children's Hospitals.  For more information, go to UPMC.com.